Going on tours whether you are a tourist or not can be very fairly familiar and a common thing to do to enjoy areas and main attractions in big cities that are in well known countries. It is known to be very educational going to any type of museum or landmark by yourself, but having someone go through every detail for you on what has happened and give you all the insights that you wouldn't even think of occurring. In a way you can say it is an eye opener that is why I'm here to inform you about the beautiful thing called wireless tour guide systems that help in many ways.
For those who have no clue on what I'm talking about as they've never been to a museum or any type of tourists attractions, don't worry I'll be going through the whole thing to help you have a better understanding. Once you realize what a wireless tour guide system is and the advantages it brings to you by expanding your knowledge can benefit you in the future.

What are Wireless Tour Guide Systems?
Walking around a museum or landmark during a tour results in the difficulty in listening to what is being said due to the loud noises that are created in the surrounds, from people speaking and shouting, music being played as background music- this would result in the tour guide needing to raise their voice for everyone to hear, in which the likeliness of them hearing everything whilst all the commotion is going on is very low.
Going to an art museum or historical museum with people walking around with headsets on-top of their heads, walking in big groups. If you have witnessed this then that would've been a tour that was in progress, the big group walks around the whole museum for the purpose of going into details about all things that are of importance. With those headsets that each member would be wearing, they would be connected to a receiver whilst the guide would be using a transmitter connected to a microphone headset. This way every member of the tour may listen to what the guide is saying without any distractions to ruin the moment, a tour guide system really makes a difference for everyone as the experience and expectation would exceed drastically.
Read :  Car Tyre Deals : Five Steps to Get the Good One
What Makes Them So Great?
The obvious benefit that tour guide systems provide which has already been mentioned is the fact that the members would be able to have a clear and better hearing of the speaker 'guide' through the headset, as well as the need to speak loudly or shout the the system wouldn't be necessary as even a low toned voice would be picked up through their microphone. Even the communication between guide and member would be increased as they would be able to communicate in a more comfortable tone without having to shout above one another.
Something else that makes the system great is how it's not only for the use of museums tours, but all types of tours that occur from art galleries, factory purposes, a tour for new employees, universities and site-visits. Helping not only tour guides, being used as a support but also for those who have hearing impaired problems in which the system could be used to their benefit.
What also may not be known is how systems today have the option to offer multi-channel systems, this means that an additional person would be able to speak (one main guide as well as an additional speaker) this extra person in this sense would be used as an interpreter, due to the fact that everyone may be able to speak the language spoken (most commonly would be English), usually situations like this would occur they would have an individual tours in different languages, splitting the languages apart to avoid confusions. Let's not forget about the option of a two-way system, this enables the option of communication between the guide speaking and group members, so now they would be able to communicate directly to each other and ask whatever question they would want without worrying about being heard.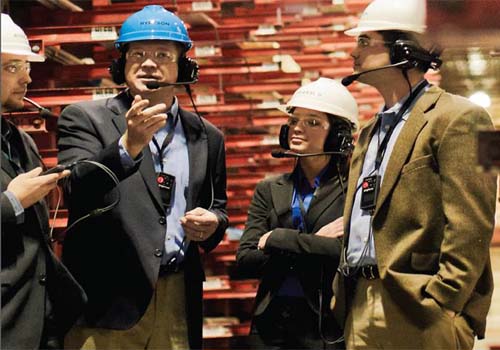 Recommendations
If you are looking for any recommendation on which I think would be the best option to go forward with, well in my opinion the brand with a good system that has left a good impression on me would be Williams Sound. A fairly small company in an ever growing market, but still being innovative in all aspects and accommodating in every field.
Their devices are very portable which is very important as each member would be holding one, having a slim and likeable features that are easy to operate in any circumstance, adjusting through each channel and setting up to be used.
Looking into their systems you would be able to notice a common resemblance between each system, the best option would be to go for a set as purchasing individually would be more inconvenient, were as getting a set with everything included, from the transmitter, receivers up to 20 pieces and additional parts, this way it would be more worth all the money that you would be spending through individual.
The fact that these systems are good for multipurpose uses and can categorize under different markets is really good, going from employee trainings that are hard to teach people and introducing each thing what's needed to be done and so on, it would be best for a clear voice for the newly employed member so wouldn't make any mistakes in the future.
But they don't limit themselves there, a very intriguing use would be at trade shows where you should multiple equipment to various clients, as they go on throughout all seasons it will be constantly busy, resulting of not being able to communicate properly to the clients, using the system would help in the communication and having a direct conversation with multiple people at once through conducting demonstrations as a group instead of individually.