A large part of the Himalayan region located in Sikkim still remains unexplored. This is because most people are not aware of the breathtaking beauty that this range has in store which includes lofty mountains and scenic lakes with a varied range of flora and fauna.
However, there are a few exotic locations in the country that has been explore by the people lately. One such gem is a place call Green Lake that provides a spectacular view of Mt. Kanchenjunga, the third highest peak in the world.
A trek to Green Lake takes you to the base camp of Mt. Kanchenjunga which stands at a height of 8,586 meters. Green Lake is located at an altitude of 5,050 meters near the Zemu Glacier of North Sikkim.
The splendid aura compelled me to take this trip to Green Lake with my group of trekkers in the month of April, this year. Although it was a bit tiring to reach the base camp of Mt Kanchenjunga, the trek did provide me an experience of a lifetime which I will never forget in this life.
Special Attractions of Green Lake Trek
Situated at the heart of North Sikkim, Green Lake provides a number of added attractions apart from the trek itself. The winding road that takes us all the way up to the base camp of Mt. Kanchenjunga is worth a mention. It passes through rocky terrains and a large variety of rhododendrons that has an aura of its own.
Apart from that, the trek route passes through the Khanchendzonga National Park which is a "Mixed Heritage Site" listed by UNESCO. The park is home to a variety of flora and some endangered species like Snow Leopard, Clouded Leopard, Musk Deer, Red Panda and much more. In addition, you can also pay a visit to the famous Rumtek Monastery located in the capital city of Gangtok. This is the seat of Tibetan Buddhism in Sikkim.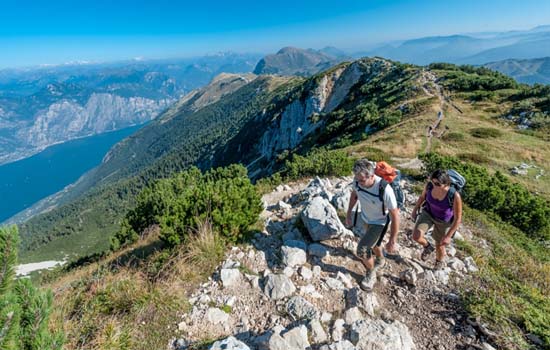 Precautions to be Followed
As the difficulty level of the Green Lake trek is between moderate and difficult, you need to follow certain precautions before you begin your journey. I have listed some of the points that you should remember:
Get acclimatized properly by spending at least a day at Jakthang that lies at an altitude of 3430m
Carry heavy woolens and jackets if you are planning to trek in autumn.
Since the trek passes through some remote zones, it is best to carry portable water and ready to eat foods like instant noodles and chocolate bars that will provide energy
You need to stay in tents at night after you cross Lachen so make sure you are accustomed to sleeping in tents
Must Know :  Top Himalayan trekking packages of Nepal
Planning for Green Lake Trek
The trek to Green Lake in Sikkim is quite a long one and is usually completed in 13 days. However, the duration can be shortened by 2-3 days depending on your health and fitness level. If you are accustomed to trekking at high altitudes you may complete this trek in 9 days. An important thing to consider while planning for Green Lake is getting acclimatized to mountain weather as quickly as possible.
This is why I along my group decided to rest for a day at a place called Jakthang at an altitude of 3430 meters. If you are into regular trekking then you may not need an acclimatization break at high altitude. Regarding the route to be followed, the most popular trail begins from Lachen and passes through Tallem, Jakthang and Yabuk followed by a temporary rest camp and finally into Green Lake.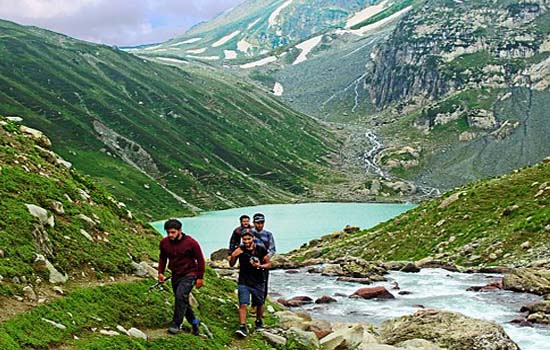 Best Time to Visit
You can visit Green Lake during summer or autumn season. The best time to visit would be between April and May or October and November. It is not advise to visit this place any later than November as the weather gets too chilly.
Things to Carry: Backpacking Essentials and Other Stuff
The hiking gears and other essentials that you need to carry depend on what time of the year you plan to go on this trek. While it would be more beneficial to attempt this trek in summer, you can also visit Green Lake around the months of September-October. However, you would need to carry a few extra items to protect you from the extremely low temperatures in autumn. We have listed the basic essentials that you should carry below.
Essentials for Summer:
A 60-liter capacity backpack
Waterproof rain jackets, good quality trekking shoes, and sandals
2-3 pairs of trekking socks to be worn with shoes
Trekking pants and inners
Few woolens if the temperature falls too low
A pair of sunglasses and cap
Personal tents along with best-camping chairs
A searchlight or torch
Water bottle
Essentials for Winter
A larger backpack than the one required for a summer expedition to pack more items
Excellent quality down jackets
Woolens which include sweaters, inners, gloves, and thermals
Good quality trekking shoes and socks
Hiking ropes and poles
A pair of sunglasses
Best Teepee tents and hiking chairs
A searchlight or torch
Water Bottle
You May Like to Know :  7 Best places to visit in Punjab
Note: I have listed down everything that I carried on my trekking expedition to Green Lake. You may add more items to this list if you wish.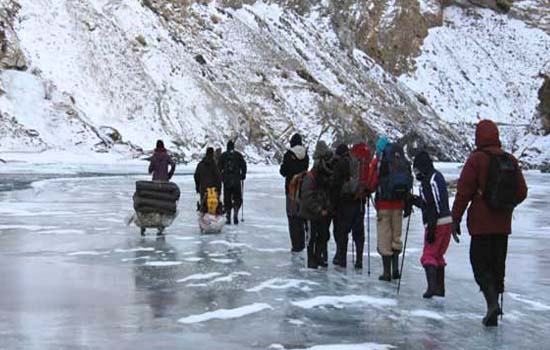 The Trek Route at a Glance
Our trekking expedition to Green Lake lasted for 13 days including the return journey. While the actual trek starts from Lachen, the journey from Gangtok to Lachen takes about 6-7 hours by car depending on the weather conditions and traffic. So it would be best if you spend the night at Lachen and start your trek from the next morning. Below is an account of our journey at a glance.
DAY 1: New Jalpaiguri (NJP)/ Bagdogra Airport to Gangtok: While we took a train to NJP station and then hired a car to take us to Gangtok, you can also reach Bagdogra Airport by air and hire a car from there. It takes 4 hours to cover the 124km (approx) distance. Spend the night at a hotel
DAY 2: Gangtok to Lachen (2750 meters): The next day after completing our breakfast we started for Lachen by Jeep. The journey takes 6-7 hours to cover the 123km distance. On the way, we passed through many places of interest like Tashi View Point, Phodong Monastery, Mangan, and Chungthang. We spend the night at a lodge at Lachen
DAY 3: Lachen to Tallem (3240 meters): Early morning after breakfast, we drove by car to a place called Zema. It is from here that the actual trek starts. It usually takes 4-5 hours to reach Tallem.
DAY 4: Tallem to Jakthang (3430 meters): The trek from Tallem to Jakthang is an eventful one as you will be mesmerize by the natural beauty of Rhododendrons that grow in plenty here.
DAY 5: Entire day at Jakthank for Acclimatization: We spend the entire day at Jakthang to get acclimatize to the weather properly.
DAY 6: Jakthang to Yabuk (4040 meters): The path to Yabuk takes through the forest which is home to a variety of plants with colorful flowers. We spend the night here in our tents.
DAY 7: Yabuk to Rest Camp (4725 meters): This part of the trek was very challenging as the trail is fill with large pebbles and boulders. On the way, we caught hold of the spectacular view of Mt Siniolchu and Simvo.
DAY 8: Rest Camp to Green Lake (5050 meters): The trail from the rest camp to Green Lake is a gentle climb up a valley with Mt Siniolchu, Mt Simvo and the Nepal Twins in the backdrop. It takes 3-4 hours to reach Green Lake which is a vast plain of level land with the spectacular lake itself.
DAY 9: Entire Day at Green Lake: We spend the whole day at the base camp of Green Lake enjoying the sunshine. The Zemu gap which links the valley to the Talung valley can be clearly seen from the base camp with Mt Kanchenjunga just on the horizon.
DAY 10-12: Green Lake to Yabuk to Tallem to Lachen: We spent the next three days going downhill to reach Lachen. The journey was quite smooth and brisk as we were moving downhill.
DAY 13: Lachen to Gangtok: Early morning we start off from Lachen after breakfast to go further downhill to Gangtok in a car. It takes around 6-7 hours to reach Gangtok.
Permits Required for Green Lake Trek
If you are a foreign national, you would need to obtain a couple of permits before you are allow to trek in Sikkim. These are:
Inner Line Permit: It can be obtain at the Melli check-post while entering Sikkim from Bagdogra or at the check-post at Rangpo.
Special Trekking Permit: It can be obtain from the Department of Tourism at Gangtok. Without this permit, you will not be allow to trek in Sikkim. Do note that this permit can only be obtain after you produce the ILP obtained earlier.
NOTE FOR INDIAN NATIONALS: If you are an Indian national then you should carry a medical certificate from a registered medical practitioner. In original and photocopy along with photocopies of passport, AADHAR card or Voter's ID card for identification purposes.
Wrap Up
Out of the many treks that I have been a part of over the past few years. This trek to Green Lake has been the most memorable one and also challenging to a certain extent. So if you are also an adventurer and love to go on treks. I advise you to visit Green Lake at least once. I bet, you will love every bit of the journey.